Since its' inception in 2013, the Beach 'N Boards Fest has returned to Central Florida after a two year hiatus.  Held March 9th-13th, the Ron Jon Quiksilver and Roxy Pro QS 1,000 was held at Shepard Beach Park in Cocoa Beach, Florida.  The five day event had just enough surf all five days which in and of  itself is a small miracle on the East Coast, especially in Florida.
The waves were nothing to write home about, mostly in the waist high range with some head high waves on day one, and ending on day five with clean offshore winds and clean long lines. The event was last run in 2020 and now has added a special upgrade with the women's QS event.  This will gave competitors a platform to showcase their high-caliber talents.
 On the women's side, Alyssa Spencer ended with a double victory, winning both the Roxy Pro and the Pro Juniors. A hard fought battle in the Pro finals beating world tour vet Sage Erickson 16.50 to 12.80, Alyssa now sits in the number one spot on the World Qualifying Series.
On the men's side, the East Coast reignned supreme.  Local boy Tommy Coleman won the Junior Pro and Michael Dunphy won the Quiksilver Pro.  A bonus for both is that they sit in the number one spot in their divisions on the World Qualifying Series.  Both had a few nail bitting heats, but in the end put it all together to grab the first spot and a nice check.
There was sun, wind, and rain: thousand of spring breakers and thousands of spectators. They had food, free swag, a skate ramp, and a wakeboard pool.  Lots to look at and lots of fun, but the real winners were the surf fans.  The surfing was as good as it gets with the East Coast conditions.  And with five days of surfing, you had a good chance of seeing some extraordinary surfing go down.
In a closing note, ESM found a full wetsuit that was left there.  If your think it's yours, email : DUGAN@EASTERNSURF.COM with description and we can get it to you. – Story, Photos and captions by Tom Dugan –

Ron Jon Quiksilver Pro Junior
  2- Jett Schilling – 14.25
  1- Michael Dunphy – 10.60
  1- Alyssa Spencer – 14.25
  2- Sawyer Lindblad – 12.40
  3- Rubiana Brownell – 9.65
  2- Sage Erickson – 12.80


Alex Lima lost his quarter-final heat and Tommy Coleman won the heat. You do the math. PHOTO : @tomduganphotos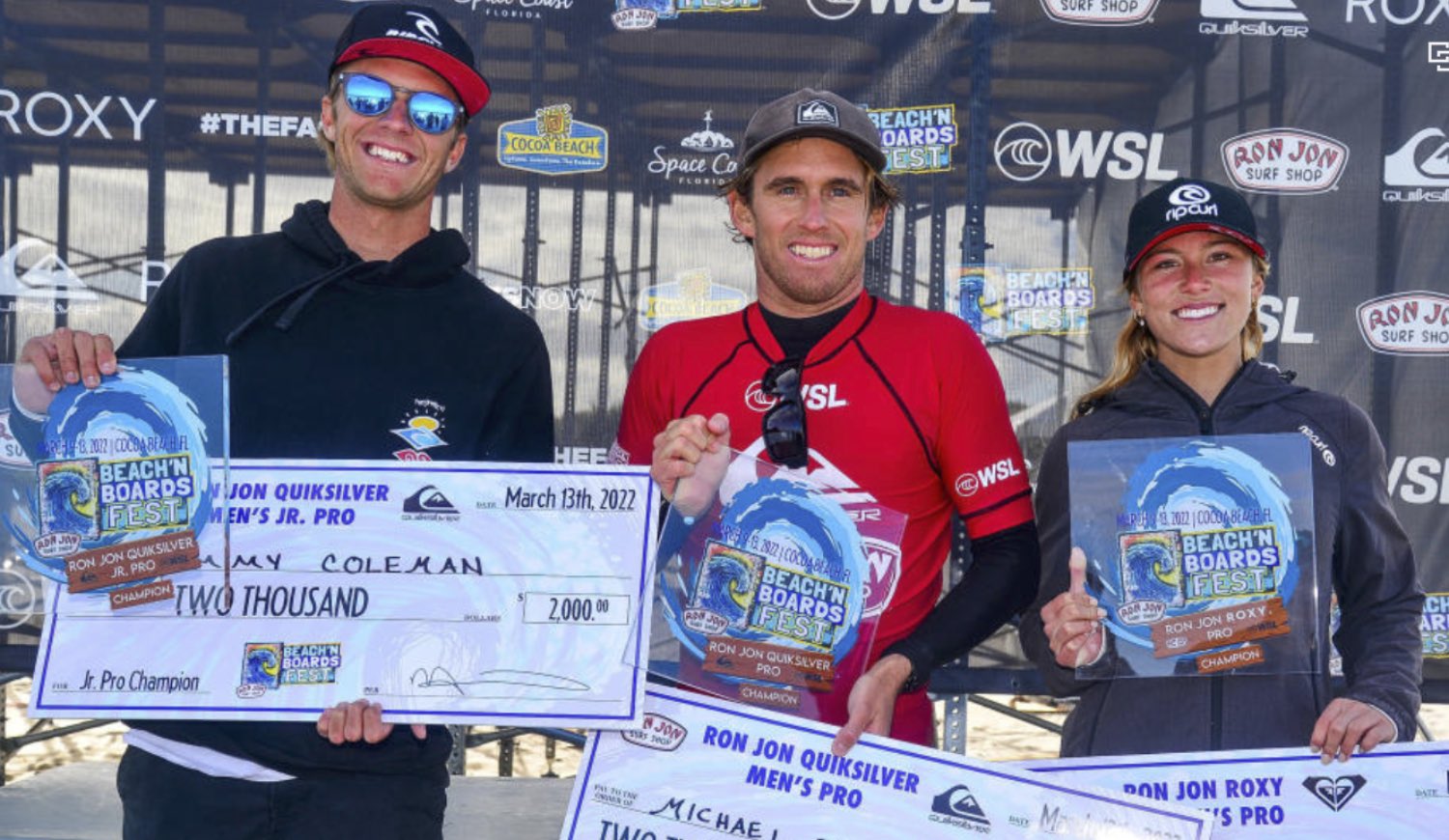 Big Winners Tommy Coleman, Mike Dunphy and Alyssa Spencer. Photo: WSL