Story by Michelle Sommers photos and captions by Dick "Mez" Meseroll / ESM
Nags Head, North Carolina – The ESA held its second of three regional qualifying events for The Easterns® at Jennette's Pier this past weekend.  The 2023 Mid-Atlantic Regional Surfing Championship brought amateur surfers of all ages from Virginia, North and South Carolina to compete in hopes of obtaining their slots for the ESA's national championship in September.
Following a short rain delay on Friday, the event ran double-beaches through Saturday in order to be complete by the time more weather was forecast to move in on Sunday.
"It wouldn't be an ESA event in the Outer Banks without crazy weather conditions," said ESA's executive director Michelle Sommers.  "Everyone knows that we always get great waves for our events at Jennette's Pier, but we do have to deal with extremes in order to reap the rewards."
Surfline's wave forecast held through the weekend and surfers were gifted great waves to showcase their skills to the judges, which included many who currently work with the WSL and came up surfing these ESA events as well.
ESA All-Star Matton Bain had the highest scoring heat in his Open Shortboard heat on Friday.  He scored an 8.77 and a 9.53, which won him the ESA's Hot Wave Award of the event.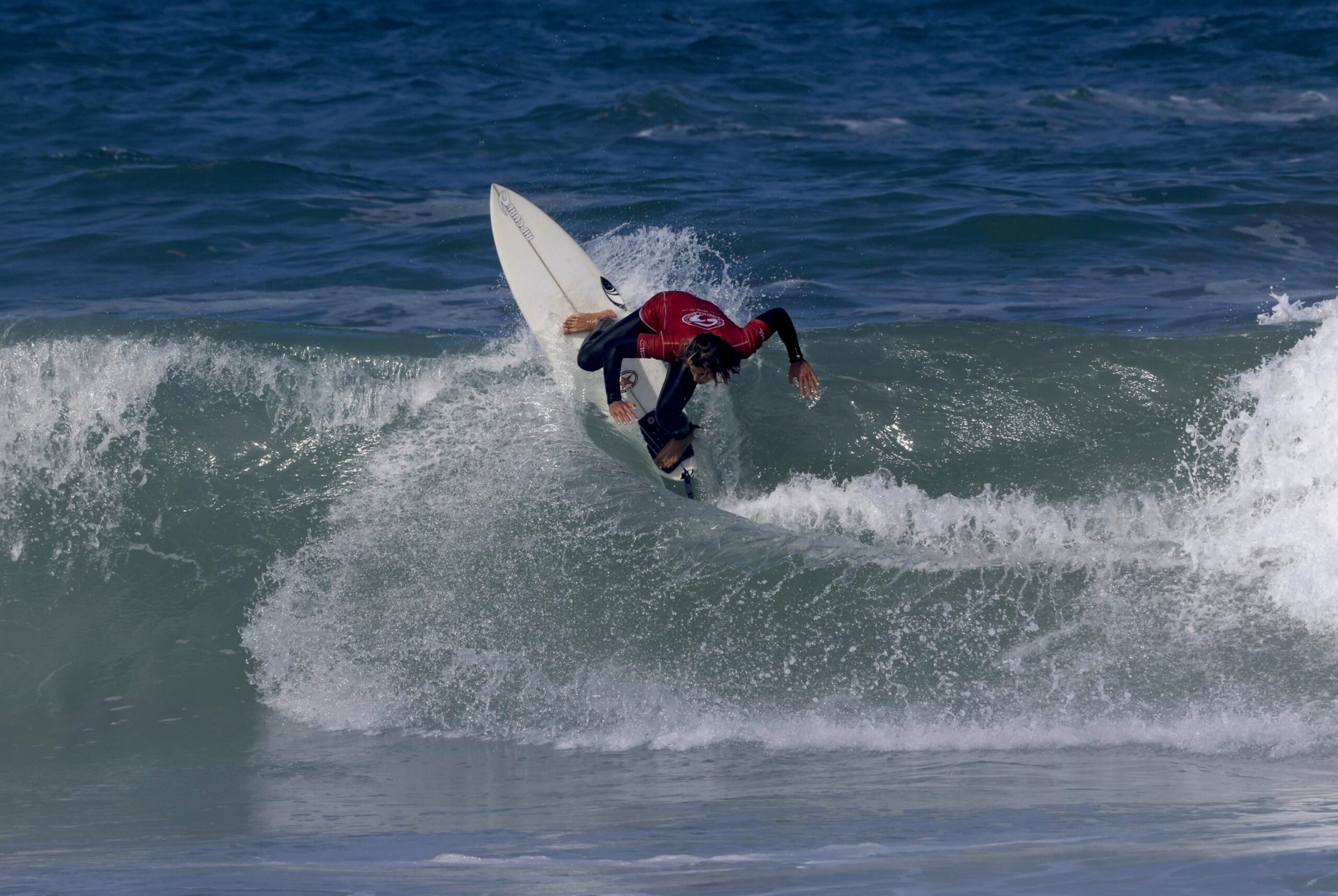 "That 9.53 was a surprise to me as that wave just popped up out of nowhere and was a total gem," said Bain.  "I wanted to try to get a huge score since I was already well in the lead and work the crowd a bit.  That was the single highest wave and combined heat scored I've ever had – best heat of my surfing life so far."
Two ESA All-Stars, Taylor Meekins and Cash Souter, put on a show throughout the event.  They are Outer Banks locals so they are familiar with the conditions that were on hand both days.  Meekins and Souter made the finals of Boys U14 and U16, with Meekins claiming first in Boys U14 and Souter won Boys U16.
"The waves were good and the competition was tough, but it was a great day to be in the water," said Meekins.
Long-time ESA competitor, Jesse Heter, claimed wins in both of ESA's Open divisions on Saturday.  Heter wasn't planning to surf Open Shortboard but opted to at the last minute on Friday taking an alternate spot.
"If your girlfriend is telling you to do something, you should just do it," said Heter.  "The best surfer is the one having the most fun."
ESA Junior All-Star Story Martinez claimed three wins in Girls U12, U14 and Jr Women Longboard.  She also made it to the final of the Menehune Longboard, as well as being the only female competitor in Open Shortboard.
"Story was surfing was above the level of many of the competitors in the event," said ESA All-Star coach Jason Mote!.  "She has a great future ahead of her in this sport as we are stoked to her a part of the ESA and the All-Stars.
ESA sponsor Sharkbanz offered up product to the U12 and U14 finalists, as well as fun interactive ESA trivia throughout the day on Saturday that entertaining announcers Travis Ajay and Phil Jackson delivered with excitement.
Special thanks to the Outer Banks Visitors Bureau, the Town of Nags of Head and Jennette's Pier as well as local event sponsors Sun Realty, Johanna's Catering, Pepsi and Sam & Omie's.
Final results can be found by clicking here.
ESA's final regional event is its 2023 Northeast Regionals in Ocean City, Maryland May 12-14. – Michele Sommers –